Two weeks ago, Jennie, Angus, Gideon and I got the keys to our first flat, a first floor Victorian Edinburgh tenement, with loads of potential, and buckets of work to do. We thought we'd start as we mean to go on, so promptly went on holiday for a week.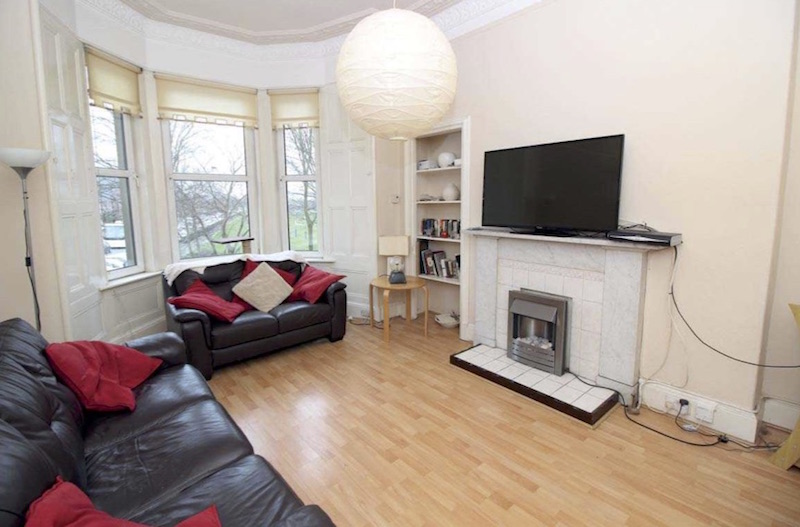 Right, Islay was really great, but we're back again. I had Sunday to have a go at starting off work on our empty flat while Jennie took the boys to see Grandma down in England, so I got provisions from B&Q, and steeled myself for the messy, painstaking, unpleasant work of stripping Anaglypta wallpaper from our living room walls.
Turns out, we hit the jackpot. There was a single layer of it with sound plaster underneath, and I could peel it off in rolls leaving the walls more or less clean! I got the living room done by lunchtime, then started on the fireplace.

The seller had shown us that there were some original tiles in behind the strange board of bathroom tiles which someone had overlaid, but we weren't expecting much of it. How wrong we were! With some gentle smashing, levering, and the removal of six bags of rubble and ash, I revealed a beautiful cast iron fireplace with pretty tile surround and hearth, only a couple of which were cracked. All this will take is a good clean and a careful hunt for a matching front.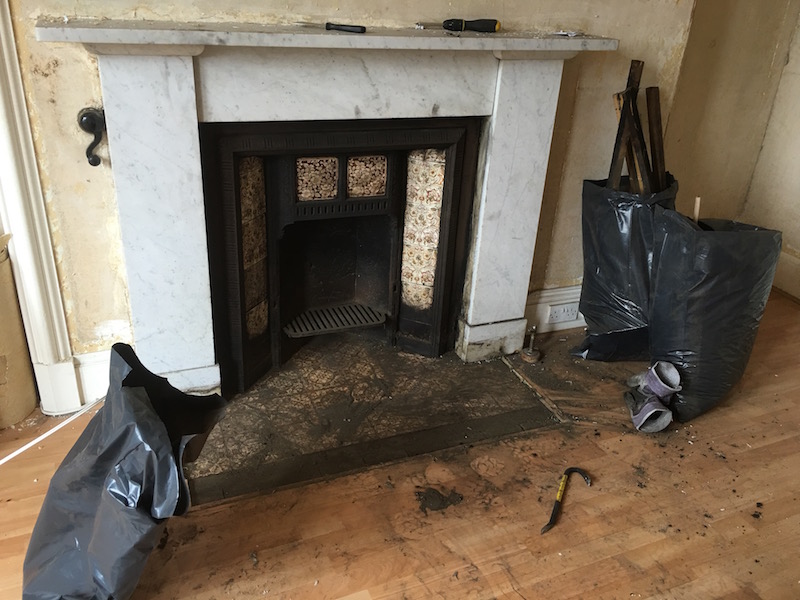 Next up, the laminate had to go. What will we find underneath?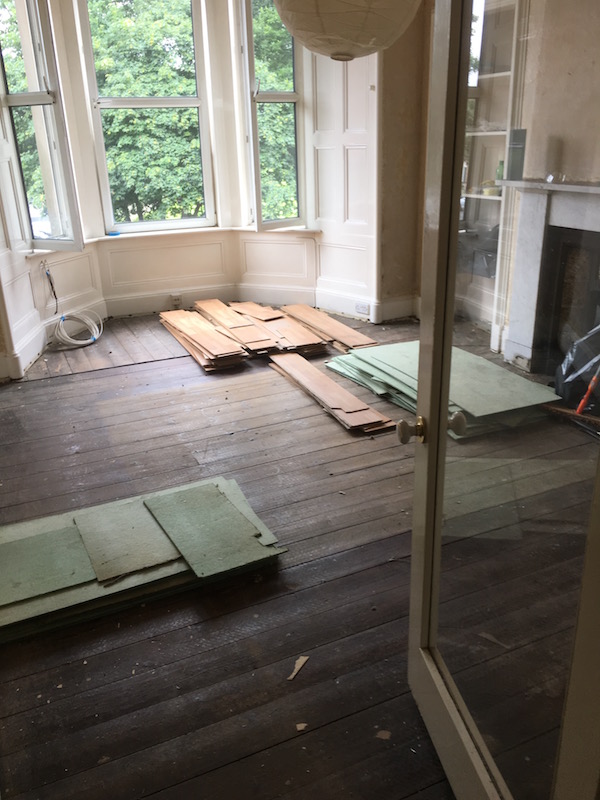 Really nice, close fit tongue and groove pine floorboards, that's what! They've only been disturbed a little, to fit the three sockets around the room, but no one's been cutting them with circular saws or anything like that, so they should come up really nicely. I'm particularly pleased that they've not had the black paint treatment around the edge of the room, just a bit of a stain in the past.
On the recommendation of Simply the Nest I'm going to pick up a decent hand held belt sander and tackle the floor methodically bit by bit, rather than trying to go for it in a single weekend with a hired drum sander like I have in the past. I'm hoping that doing it bit by bit with a smaller tool will help get a better result, fit in with family life, and even be cheaper over a few floors.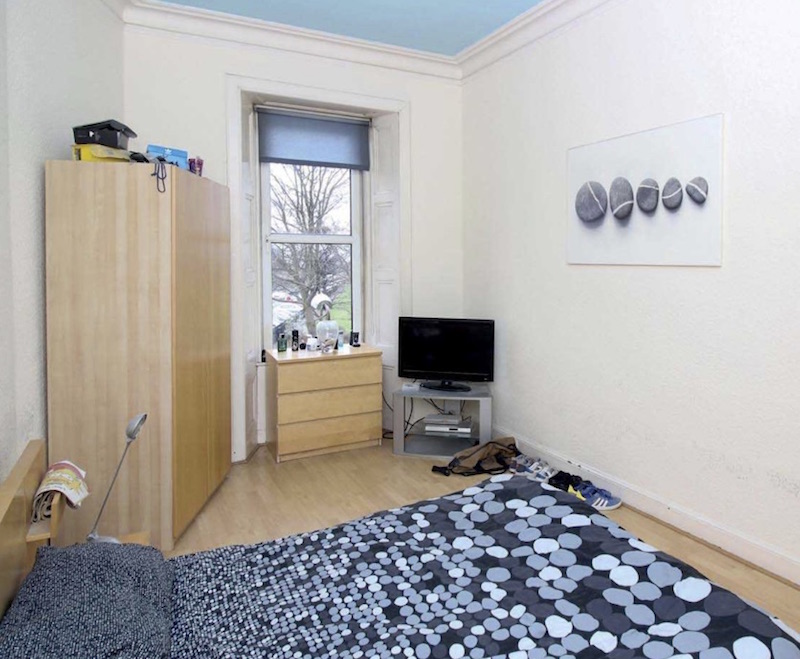 So, I'd done plenty on the living room. That was all I was going to touch. "We'll take it one room at a time", we said, over and over. But that Anagylpta did come off so easily and it's all over the bedroom. I made a call, and with Jennie's blessing went for it…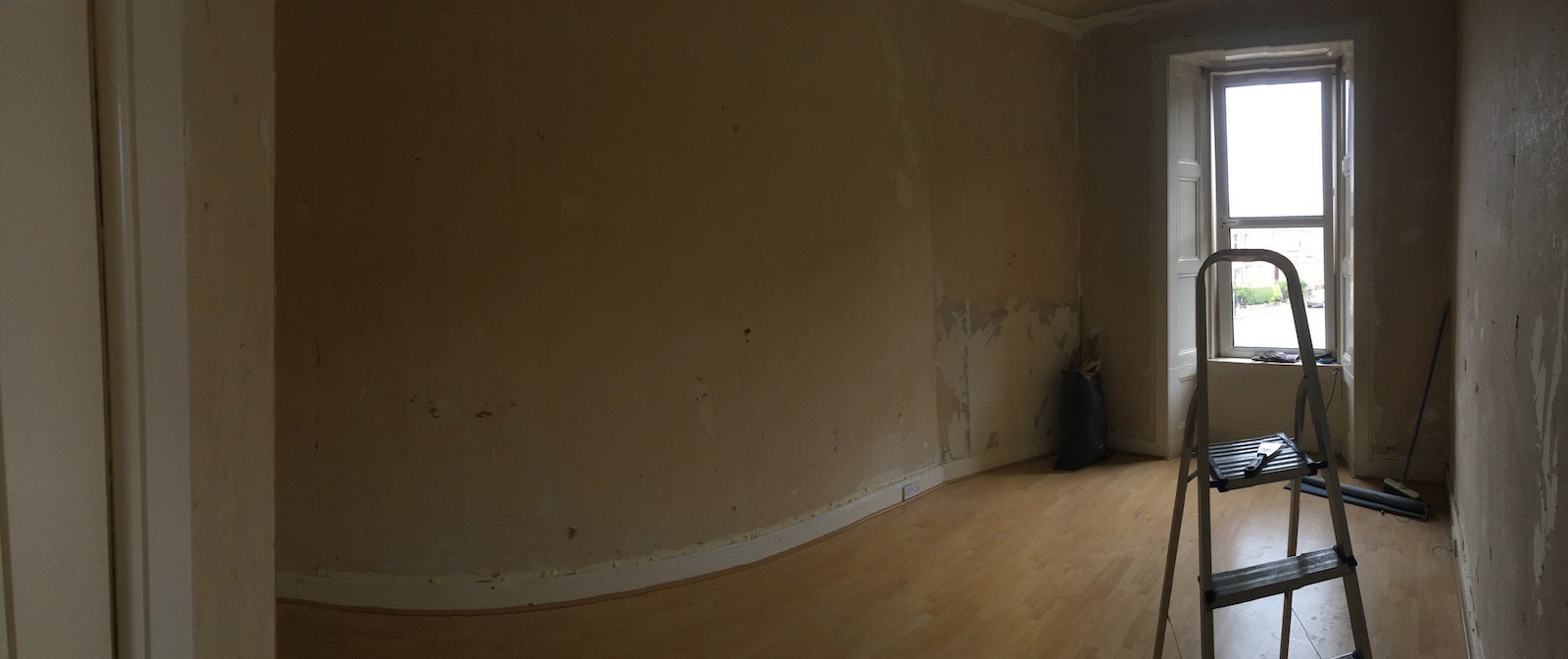 It was the right call. Thirty neat rolls of old paper later, we had two rooms with bare plaster, though the bedroom needs more patching than the living room, it's still better than the cat scratched Anaglypta and we can live with it for a while.
So, a big opening day. I'm sure it won't all be so easy, and we'll have days the complete opposite of this one, but with the fireplace find and the barely touched floorboards, it feels like we've got the right sort of project on our hands. Next time I'll even try to remember to take before shots that aren't from the schedule!